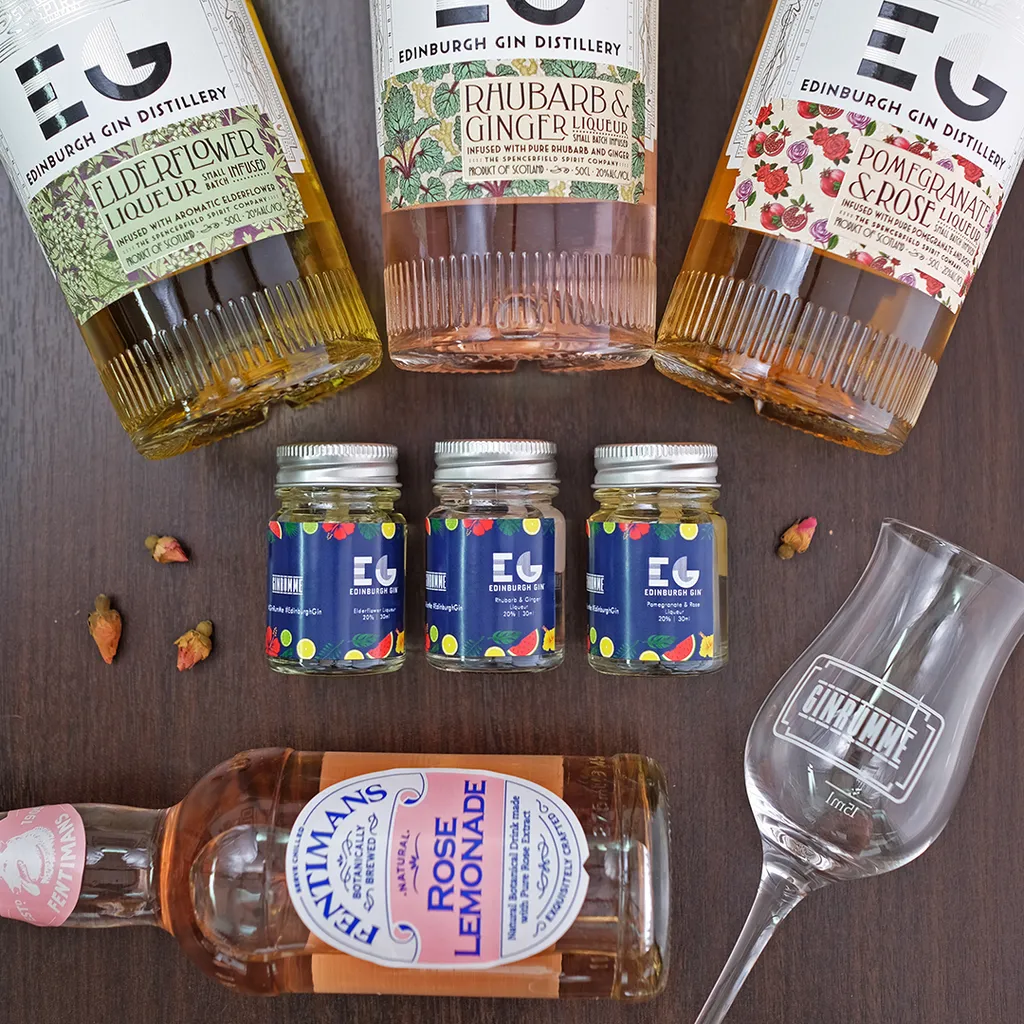 Edinburgh Gin Liqueurs Kit
Grab.Relax.Minum
Taste these liqueurs by a small-batch distiller committed to the art and science of distilling, and of creating innovative, award-winning gins.
What's in the box:
1. Edinburgh Elderflower Liqueur (30ml)
2. Edinburgh Pomegranate & Rose Liqueur (30ml)
3. Edinburgh Rhubarb & Ginger Liqueur (30ml)
4. Fentimans Rose Lemonade
6. GinRum.Me crystal snifter glass
Read about the collaboration here.
Elderflower Liqueur 20%ABV
Distilled using the best natural flavours, Elderflower has a distinctive floral aroma and flavour that marry beautifully with the Edinburgh Gin Classic. This gin liqueur is subtle yet complex. It brings a light, floral profile. It is a honeyed, flavourful libation that's an ideal counterpoint to sharper flavours, and makes a refreshing cocktail Elder Zest when paired with gin, lemonade and fresh mint. It makes a sweet addition to good quality tonic water or Prosecco, and is equally enjoyable served over ice.
Rhubarb & Ginger Liqueur 20%ABV
A mainstay of kitchen gardens across Scotland and intensely flavoured, rhubarb is the ideal ingredient for a sweet gin liqueur. Freshly rhubarb is spiked with ginger and infused with the Edinburgh Gin Classic. The rhubarb and spice are left to steep for four weeks, allowing for the complex flavours to marry together. The sweetly-spiced notes make the perfect addition to a classic Bramble. This aromatic gin liqueur is equally enjoyable at home over ice, topped up with chilled Prosecco, or mixed with ginger ale, garnished with fresh ginger and a lime twist.
Pomegranate & Rose Liqueur 20%ABV
Inspired by dusky evenings in the Orient, the Pomegranate & Rose Liqueur is light and fragrant, evocative of sugar-dusted Turkish Delight. Blending ruby-red pomegranate seeds and damask rose petals with Edinburgh Gin Classic, this sumptuous liqueur is softly floral, its gentle warmth tempered by lingering fruit flavours and a light citrus lift. The candied, aromatic notes are a perfect complement to dry sparkling wine such as Prosecco. It also makes a delicately sweet addition to the classic Martini, and is equally delicious when served over ice. For a longer drink, this gin liqueur mixes beautifully with rose lemonade, garnished with a lemon twist.
--
Free delivery to Klang Valley (1-3 working days), rest of West Malaysia (2-5 working days). Getting it as a gift? Leave your personalised message at checkout.