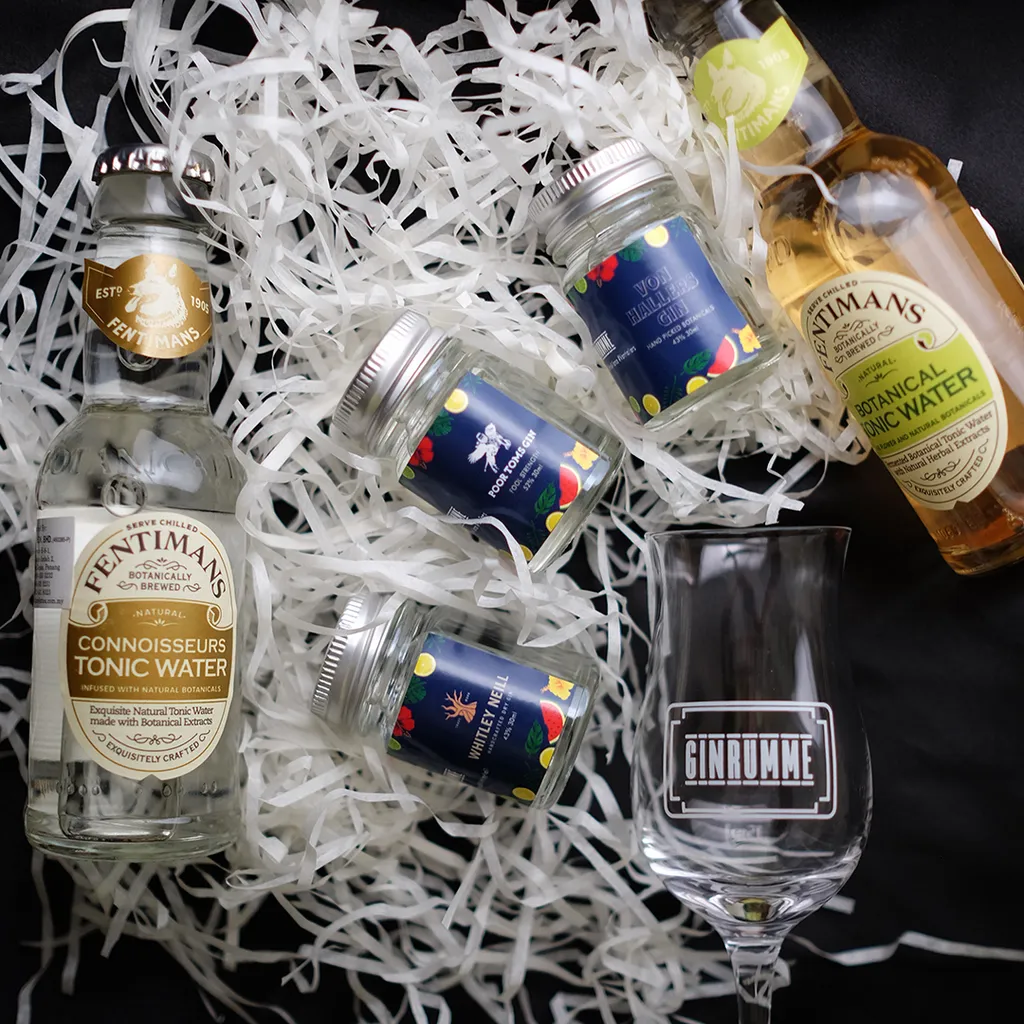 Grab.Relax.Minum
Try gins from three different countries showing how diversity the juniper base spirit can be.
What's in the box:
1. Poor Toms Fool Strength (Australia) (30ml)
2. Von Hallers Gin (Germany) (30ml)
3. Whitley Neill The Original (England) (30ml)
4. Fentimans Connoisseur Tonic
5. Fentimans Botanicals Tonic
6. GinRum.Me Crystal Snifter Glass
1. Poor Toms Fool Strength, 52% ABV (Australia)
Poor Toms, named after the two young founders' middle name, make delicious spirits in Sydney. They pay homage to the Aboriginal Gadigal people of the Eora Nation, who lived in the coastal areas south of Port Jackson covering today's Sydney central business district. The Poor Toms Fool Strength is at 52% ABV is "made for audacious gin drinkers who prefer their spirit strong and full of juniper."
2. Von Hallers Gin, 44% ABV (Germany)
Produced in rural Ireland in The Shed Distillery by RJ Rigney with ingredients hand-picked from the botanical gardens in Gottingen founded by Albrecht von Haller, an expert on medicine and the natural world in early 18th century, and also a towering figure of the German Enlightenment. Von Hallers Gin is distilled with German ginger, lemon verbena and a special type of fuchsia. Slow-distilled in Medieval copper stills, the gin is gentle with hint of ginger and tanginess from fresh fruits.
3. Whitley Neill The Original, 43% ABV (England)
The very first gin created by founder Johnny Neill, a direct descendant of a long line of distillers, whose heritage stretches back as far as the Baobab trees found in Africa today. This handcrafted gin pays tribute to Johnny's English distilling heritage and the enigmatic beauty of his wife's African homeland. It is rich with juniper notes and citrus, pot pourri with a long but subtle fade of herbs, cocoa and candied lemon peels.
--
Free delivery to Klang Valley (1-3 working days), rest of West Malaysia (2-5 working days). Getting it as a gift? Leave your personalised message at checkout.